We invite you to the jubilee, 10th edition of the "Top Industry Summit", which will be held on October 27, 2021 at the Sheraton Grand Warsaw hotel.
This event is dedicated to representatives of the industrial sector as well as cooperating companies. The main topics of panel discussions will be, among others automation, robotization, machine learning, IoT, as well as the implementation of new solutions and technologies in production and logistics. We will also touch on other issues, e.g. renewable energy sources or alternative energy sources, energy, industry 4.0 or the chemical industry. Due to the cooperation of industry with many industries, the event is very popular among recipients of industrial solutions. The conference will be concluded with the "Top Industry Diamonds" gala.
The Organizer reserves the right to make changes to the agenda.
Top Industry Diamonds are prestigious statuettes aimed at honoring those companies and entrepreneurs who in a special way stood out on the Polish industrial scene and have achieved success in the new economic reality. The idea of ​​Diamonds is to promote the latest and most innovative technologies by rewarding business representatives implementing new trends in the era of the fourth industrial revolution. The competition is open and is addressed to all entities implementing projects from the industry sector.
Prof. Janusz Jurczak
Department of Chemistry Warsaw Univerity, Institute of Organic Chemistry Polish Academy of Science
Janusz Jurczak is a full professor at the Institute of Organic Chemistry of the Polish Academy of Sciences and the Faculty of Chemistry at the University of Warsaw. He is engaged in research in the field of organic and supramolecular chemistry. He is a full member of the Polish Academy of Sciences, an ordinary member of the TNW.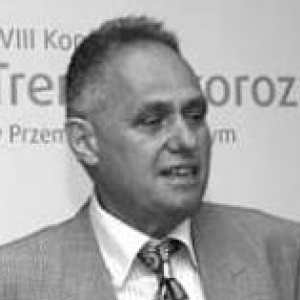 Prof. Jacek Kijeński
President of Polish Hydrogen and Fuel Cell Technology Platform
Wybitny specjalista w dziedzinie chemii i technologii chemicznej w zakresie kierunków i strategii rozwoju przemysłu chemicznego, katalizy, przemysłowej syntezy organicznej i recyklingu odpadów z tworzyw sztucznych.Prof. dr hab. inż. Jacek Kijeński. Profesor zwyczajny Politechniki Warszawskiej, profesor Instytutu Chemii Przemysłowej. Prezes SITPChem od 2002 r. Członek Prezydium Komitetu Chemii PAN, Ekspert NCN i NCBiR, Koordynator Polskiej Platformy Technologicznej Wodoru i Ogniw Paliwowych, Ekspert Panelu Głównego Foresight Polska 2020. 200 publikacji, 40 patentów, kilkanaście projektów procesowych. Konsultant sektora wielkiej syntezy chemicznej.
Prof. Michał Kleiber
Vice President of the European Academy of Sciences and Arts, President of ECCOMAS
Jest specjalistą w zakresie zastosowań nowoczesnych technik komputerowych w badaniach naukowych, technice i medycynie. Zajmuje się także problematyką prorozwojowej polityki państwa, a w szczególności strategią rozwoju edukacji, nauki i innowacyjności gospodarki. Jest autorem bądź współautorem ponad 240 prac naukowych oraz 7 książek opublikowanych w wydawnictwach o światowej renomie.Jest członkiem rad redakcyjnych kilkunastu międzynarodowych czasopism naukowych, w tym redaktorem naczelnym prestiżowego czasopisma o światowym obiegu "Archives of Computational Methods in Engineering" (Springer). Jest laureatem licznych nagród, w tym najbardziej prestiżowej krajowej nagrody naukowej przyznawanej przez Fundację na rzecz Nauki Polskiej oraz Medalem Królestwa Belgii za osiągnięcia innowacyjne. Posiada wysokie odznaczenia państwowe przyznane przez Prezydenta Francji i Cesarza Japonii. Jest doktorem honoris causa uczelni w Lublinie, Krakowie, Warszawie, Bydgoszczy, Gliwicach, Darmstadt (RFN), Mons (Belgia) oraz Polskiego Uniwersytetu na Obczyźnie w Londynie. Został także wybrany członkiem Austriackiej Akademii Nauk, Europejskiej Akademii Nauk i Sztuk w Salzburgu oraz Akademii Europejskiej w Londynie. Jest członkiem Rady Programowej organizacji "Science and Technology for Society Forum" w Kioto, Japonia. Przez wiele lat wykładał na uniwersytetach w RFN, USA i Japonii.W latach 1995 – 2001 prof. Kleiber był dyrektorem Instytutu Podstawowych Problemów Techniki PAN, w latach 1998 – 2001 reprezentował Polskę w Radzie Gubernatorów Centrum Badawczego UE oraz był polskim delegatem do Komitetu Sterującego "Zrównoważony wzrost" w ramach V Programu Ramowego UE. W latach 2001 – 2005 był ministrem nauki i informatyzacji, przewodniczącym Komitetu Badań Naukowych oraz przewodniczącym Rządowego Komitetu ds. Umów Offsetowych. W roku 2005 prof. Kleiber został wybrany członkiem Europejskiej Rady Nauki oraz prezesem European Materials Forum. W latach 2006 – 2010 pełnił funkcję Społecznego Doradcy Prezydenta RP ds. edukacji i badań.
Prof.Andrzej Kolasa
Dean of the Faculty of Production Engineering, Warsaw University of Technology
Profesor Politechniki Warszawskiej na Wydziale Inżynierii Produkcji gdzie pełni od 2012 roku również funkcję dziekana. W latach 2002-2016 profesor Państwowej Wyższej Szkoły Zawodowej w Ciechanowie, którą kierował przez dziesięć lat pełniąc funkcję rektora.Urodził się w 1948 roku w Lublinie. Studia ukończył na Wydziale Mechanicznym Technologicznym (obecnie Inżynierii Produkcji) Politechniki Warszawskiej uzyskując w 1973 roku dyplom magistra inżyniera, a potem kolejno stopnie: doktora nauk technicznych w 1981 roku i doktora habilitowanego w 1991 roku. Tytuł profesora otrzymał z rąk Prezydenta RP w lutym 2015 roku. Wykształcił wielu inżynierów i magistrów inżynierów, wypromował ośmiu doktorów. Poza Politechniką Warszawską i PWSZ Ciechanowie wykładał lub prowadził badania naukowe na kilku uczelniach europejskich oraz w Japonii, Chinach i Tanzanii.Prof. A. Kolasa jest autorem ponad stu sześćdziesięciu prac opublikowanych w kraju i zagranicą, wielu ekspertyz i projektów oraz ponad czterdziestu wdrożeń przemysłowych z zakresu spawalnictwa. Jest członkiem rad naukowych oraz kilku towarzystw naukowych i rad programowych czasopism naukowo-technicznych w kraju i zagranicą. Posiada dyplom Europejskiego Inżyniera Spawalnika EWE. Oprócz pracy zawodowej aktywnie uczestniczy w pracach organizacji działających na rzecz rozwoju gospodarczego regionu i kraju.Za całokształt pracy został odznaczony m. in. Brązowym i Złotym Krzyżem Zasługi, Medalem Komisji Edukacji Narodowej, Srebrną i Złotą Odznaką Honorową SIMP, Odznaką im. Henryka Mierzejewskiego, Medalem im. inż. Stanisława Olszewskiego przyznawanym za wybitne osiągnięcia dla rozwoju spawalnictwa w Polsce, Honorową Odznaką "Zasłużony dla Mazowsza" oraz honorowymi tytułami zasłużony dla miast Ciechanowa i Mławy.
Dr. Paweł Urbański, Eng.
Chairman of the Supervisory Board of Columbus Energy, Director of Business School of the Warsaw University of Technology
Director and lecturer at the Warsaw University of Technology Business School. Doctor in Economics from Imperial College London, holds an engineering degree and an MBA from the Warsaw University of Technology. Chairman of the Supervisory Board of Columbus Energy, former member of the Management Board of PSE and President of PGE. He supervised and co-created consulting and investment projects for major Polish and international energy companies.
Wojciech Znojek
Managing Director, VP Sales, SABUR
Co-founder of SABUR Sp. z o.o. For over 25 years he has been associated with the IT and automation industries. In the company, he is responsible for contacts with the company's foreign partners, the sale of their products and solutions successfully introduced to the Polish market, and the development of the distribution network. He has many years of and diverse experience in implementing infrastructure, industrial and building automation systems. He attaches great importance to reliability in running a business, the principles of sustainable development and pro-employee activities. He is a member of the Industry and Program Council of the Faculty of Mechatronics of the Warsaw University of Technology, and works in several business organizations. A graduate of the Faculty of Electrical Engineering at the Warsaw University of Technology.