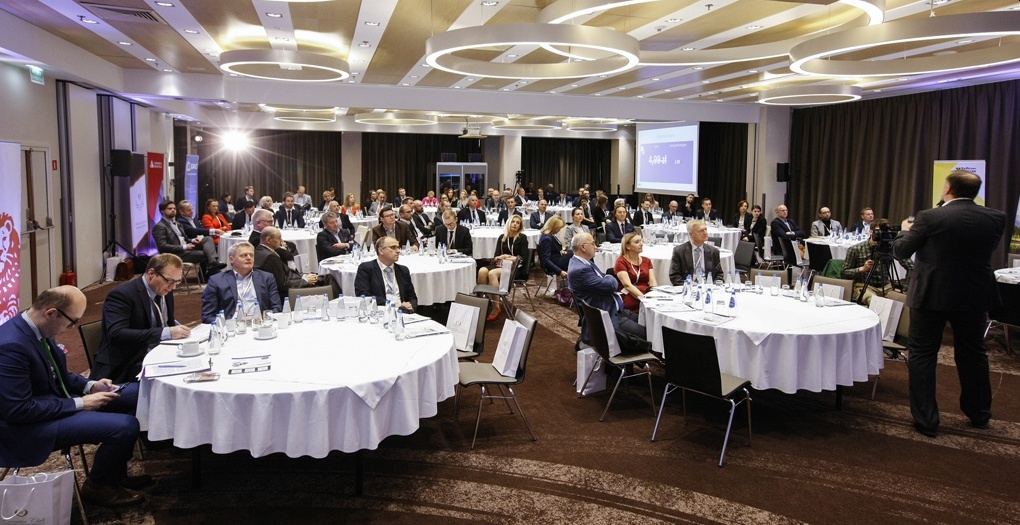 Representatives of the industry met on 25 October in the Novotel hotel in Warsaw to participate in the European Retail Congress and discuss the challenges the retail industry has to face. Topics addressed during the conference included pricing strategies, opportunities and threats resulting from digitization as well as investment challenges for entrepreneurs in the retail industry.
"We are very happy to see so many distinguished speakers and representatives of the most important enterprises and industry leaders. During today's conference, we will try to predict how the retail industry is going to develop in the decade to come." This is how Beata Radomska, CEO of Executive Club and professor Michał Kleiber, Chairman of the Club Council welcomed the participants.
Will digitization revolutionize commerce?
The first discussion panel started with the presentation entitled "Behavioral and numeric approach to pricing" delivered by Grzegorz Furtakand Piotr Jastrzębski from PricingLAB, who dealt with behavioral economics and shopping decisions made by consumers. The presentation included specific pricing tactics used to affect customers' choices, such as price tag layout and selection of phrases informing about promotions.
Discussion during the plenary panel constituted a follow-up of the presentation and concerned a.o. new pricing opportunities in the context of challenges and trends in the digital revolution. The discussion was moderated by Agaton Koziński, a journalist at the "Polska The Times" daily. Asked about the ways of creating innovative offers and setting prices of new products, Grzegorz Karasiewicz, head of the department of marketing at the Faculty of Management at the University of Warsaw, said that prices pose a huge challenge because with innovative products there is no point of reference, close or distant substitutes which you could compare to. "Setting too low prices to attract buyers and foster loyalty is a frequent mistake made by small companies which introduce a new product to the market", Grzegorz Karasiewicz added. Grzegorz Furtak (PricingLAB) pointed out that when confronted with a new product, buyers assess its value and quality mainly through its price, which is why setting the right price of a new product is of paramount importance. "Digitization considerably influenced transparency and increased the possibilities to compare prices and simplified access to information on the value of products. Pricing is not just about prices and includes the relation between price and value," the founder of PricingLAB argued.
"Not so long ago, we saw changes in the attitude of consumers, who started chasing promotions and retailers were striving to offer increasing discounts. At that point a large part of customers gave up loyalty and started searching for benefits and promotions," Maciej Łukasik, Director, Retail Trade Sector, ING Bank Śląski S.A., said Currently retailers are trying to reach customers who are outside the range of a particular shop and are not a part of a loyalized group. According to Maciej Łukasik, loyalty programs luring customers with rewards and promotional campaigns encouraging to shop are examples of mechanisms which boost profitability of shops and contribute to acquisition of new customers. Paweł Działak, CEO of Krajowy Integrator Płatności, referred to digitization, which is revolutionizing payment methods, and stated that society is now more likely to get used to new payment methods. Many customers do not have cash in their wallets and use payment cards instead. Mobile phones, which most of us have on us, are an increasingly noticeable substitute of payment cards.
Increasing importance of Big Data
The next part of the conference began with a presentation related to the experiences of Augere Health Food Fund in terms of practices in financing and implementing innovations. "Innovations constitute an important element of all changes introduced to business models in all enterprises," dr inż. Tomasz Kaniowski said. Products launched by Summer Agency, First 11 and Mate T were presented in the case study section.
The second discussion panel, moderated by Anna Bombała, Deputy Director of "Handel w praktyce", focussed on the opportunities and threats related to collecting and processing data. Piotr Paszczyk (APN Promise) said that clients of the company he represents are not ready to draw conclusions from the data they collect. "The main challenge for us, as suppliers, is to convince the clients to use the information they have," the President of the Management Board of APN Promise said. Piotr Paszczyk also pointed out that their clients no longer have to invest in media carriers and they can use the cloud for collecting and processing data, which is one of the major changes in recent years. Bogusław Bławat, Director of the Institute for Market, Consumption and Business Cycles Research said that the amount of data the Institute has is huge, but it is necessary to apply sophisticated analysis techniques to draw any conclusions.
"Knowledge about customers is vast and it entails both opportunities and threats," Artur Stachowski (Sales & Executive Director at Orange Polska) said. He added that all data disclosed by customers could be processed to yield better business results and to present customers with tailored offers. However, ensuring safety of data processing and maintaining trust of the customers is the main challenge that needs to be addressed. Tomasz Dymowski, Retail Banking Department Director at Raiffeisen Bank Polska, agreed with the previous speakers and insisted that digitization and the opportunities it creates entail the need to redefine organization development strategies and to expand business models. "We need to surprise customers, earn their trust and offer them added value," he continued.
Investors faced with challenges in the retail industry
After lunch break the participants listened to a short presentation about franchise networks delivered by Monika Dąbrowska, President of the Board of the Polish Franchise Organization. She began on a positive note saying that the number of franchise systems is growing every year. "Franchisees are people with various experience who, in case of a failure, can count on huge support and assistance from franchisers," she added.
Investment challenges were the focal point of the third discussion panel moderated by Mira Kantor-Pikus (Cushman & Wakefield Polska). One of the topics, addressed by Włodzimierz Skonieczny (ING Bank Śląski), was expectations of institutional investors towards the retail industry and commercial facilities. "A good property manager is a huge asset. We know from our experience that the same asset may be managed in different ways, depending on the manager's experience, thereby considerably affecting financial results," Włodzimierz Skonieczny said.
"It is each developer's strategy to buy properties in best locations at lowest prices, which is now quite a challenge because the prices of land are excessive," Rafał Trusiewicz, President of the Management Board of Katharsis Development, said. In order to acquire attractive land, developers buy enterprises which are not related to their industry. "We are trying to separate enterprises from the land. We then sell them, wind them up or find a strategic investor. Currently this is the only way to acquire attractive land," he said.
Francois Colombie, Chairman of the Supervisory Board, Auchan Poland and Ukraine, said that tenants must make a huge effort to generate profit given the ever increasing pace of economic development. The relation between money and value is important and re-urbanization creates new opportunities for growth for retail chains.
"Investors expect primarily a quick return on investment," Agnieszka Nowak (Globe Trade Centre) said. According to the General Director of Galeria Północna, a shopping centre, there is no sure-fire recipe for financial success of a particular project and the outcome is the sum total of many components. The most important thing is to make sure that the projects are sustainable and will increase their value over time. The success of a shopping centre is a combination of many factors such as the right tenants, management system, location, investment level and maintenance costs. Monika Dąbrowska, President of the Board of the Polish Franchise Organization, referred to cooperation between investors and franchise networks. She pointed out that when customers visit shops they know, they also discover the rest of the offer of a particular shopping centre. This is a great opportunity for new brands to be recognized. "The offer starts playing the key part in franchise. Customers no longer feel attached to a particular brand. Competitive offers which are most attractive for a consumer on a given day are of increasing importance," she said.