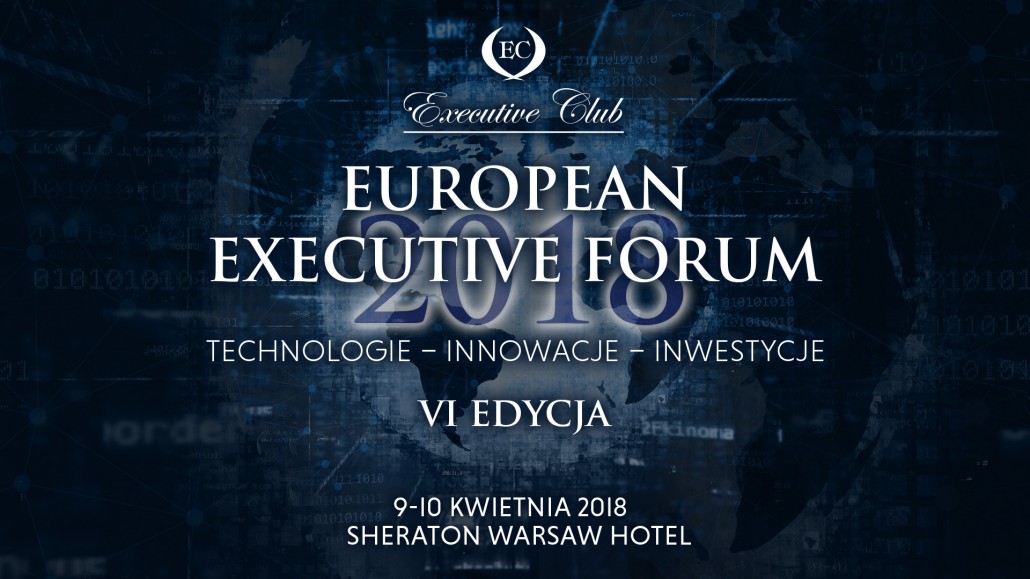 Two days, five discussion panels, thirty speakers, eight hours of Special Guests' speeches, discussion and Gala – this is how the 6th edition of the international congress on leadership, management and innovation looked like in a nutshell. The event took place on April 9 and 10 at the Sheraton hotel in Warsaw and was held under the honorary patronage of the Minister of Science and Higher Education, Jarosław Gowin. Also once again, the prestigious "European Leadership Awards" statuettes were presented.
Day 1
The first day of the conference was opened by  inaugural speech of  Special Guest Sony Kapoor –  Director of Re-Define think tank, who emphasized the importance of technology development as one of two ( apart from the increase in the number of employees) driving engines of technological revolutions. He also noted that the development which is happening in plain view has both  good and  bad side. Things that seemed modern 10 years ago today are often useless, and on the other hand, development of artificial intelligence and threat of personal data leakage (as in the case of Facebook) pose a serious threat to human security. The speaker concluded his lecture with  statement that it is necessary to respond to the great challenges in many fields that  progressive development of technology throws at us.
Panel 1: Technological Horn of Plenty
During the first discussion panel moderated by prof. Piotr Płoszajski (Warsaw School of Economics), speakers debated on the ongoing digitalization  of business as well as opportunities and threats posed by the development of digitization and automation. Moderator initiated the discussion by inviting panelists on the stage: Zsolt Fekete (Algotech Polska), Tomasz Gościniak (Microstrategy Poland), Sony Kapoor (Re-Define), Marcin Lewandowski (Grupa GPEC) and Michał Sieczko (Canon Polska). Experts in their discussion raised key issues related to technological development , pointed out technologies that they believe will play a key role in the future, including: digital image reproduction, 3D printing, blockchain and Big Data. They also pointed out industries that are developing simultaneously with the development of technology and those that don't keep up (healthcare and public administration) with the progressive revolution and every effort should be made to change that. During the discussion there was  a statement that can be fully used as a summary of the extremely interesting panel: "Big Data is a new oil".
Panel 2: Sharing Economy
Discussion on the sharing economy gave tone to the debate led by prof. Witold Orłowski (Vistula Academy of Finance and Business). Prof. Bolesław Rok (Kozminski University) talked about sharing economy as an access economy. He argued that  areas where this issue is significantly developing are entertainment  accompanied by such services and rentals as Spotify or Netflix and crowdfunding, which causes banks to lose another field to finance various types of projects. Bartłomiej Zagrodnik (Walter Herz) looked at the issue of sharing from the perspective of real estate industry and shared access. He recalled the example of reconstruction of shopping centers in response to new expectations and a change in the perception of spending time. There will be more and more new places which will allow  sharing and exchanging  your own products, e.g. bookcrossing or breakfast markets. Speakers among whom were also Władysław Grochowski (Grupa Arche), Maciej Panek (Panek S.A. and UAB PANEK) and Dariusz Żuk (Business Link Poland) agreed that the world should develop towards the exchange of knowledge and resources and their more effective use, not in the direction of possessing things.
"EUROPEAN LEADERSHIP AWARDS" STATUETTES PRESENTED ONCE AGAIN
The culmination point of the evening was "European Leadership Awards" Gala, which was held for the sixth time. Its aim was to honor the best enterprises, outstanding managers and business leaders who implement new technologies and innovations, contribute to the country's economic development and are characterized by special care for the highest standards of leadership.
Industry Leader – MAN Truck & Bus Polska
Innovation Leader – URSUS S.A.
Technology Leader – Canon Polska
CEO of The Year – Jan Motz, Preident of the Management Board Capital Park
Global Success Leader – Maspex-GMW and Nowy Styl Group
Personality of the Year – Joanna Erdman, Vice President of the Management Board, ING Bank Śląski S.A.
Investment Leader – Griffin Real Estate
Financing Leader – Bank Pekao S.A. and Polski Fundusz Rozwoju S.A.
Export Ambassador – Korporacja Ubezpieczeń Kredytów Eksportowych S.A.
Charity Leader – Pfizer Polska
Day 2
The second day of the conference was initiated by Mr. Bernd Lucke – prof. of economy and German MEP. The speech very interestingly outlined the internal situation in the European Union, mutual interactions between countries and  current problems of the community. The most serious of them include  immigration crisis, Brexit and  legislative difficulties that results from previsions of the Lisbon Treaty regarding unanimity during the votes on change/introduction of new legal regulations. All these problems undermine the unity of the organization and  lack of leaders who could help with dealing with these problems don't instill optimism. The solution to these problems according to the MEP is to focus on economic integration through the development of the common market.
Panel 1: Sustainable Growth In Business
The first panel led by Agaton Koziński (Polska The Times) was devoted to issues related to building sustainable development in business and innovative business solutions leading to efficient use of resources. Prof. Michał Kleiber (The European Community on Computational Methods in Applied Science) noted that the greatest opportunity as well as the greatest challenge in creating sustainable business is the use of large data resources flowing from Big Data, which effective use would determine effects of various operation elements in business. Speakers including Jean-Andre Barbosa (Future Pipe Industries), Łukasz Czepiel (Pfizer Trading and Pfizer Consumer Healthcare), Joanna Erdman (ING Bank Śląski S.A.) and prof. Bernd Lucke, together, decided that profit is not the only value in corporations. More and more entrepreneurs pay attention to dialogue with stakeholders such as employees, suppliers or clients, and adjust the company's conducted activities to their expectations.
The second discussion panel was initiated by prof. Santiago de la Cierva, lecturer at IESE Business School, who discussed the issues of modern leadership. Speaker at the outset indicated that being a leader nowadays is much more difficult and requires from him much more than just a dozen years ago. In the face of the development of social media and entering labor market by millennials, the leader should be versatile and proficient in multi-channel communication.
Panel 2: Visionary Organizations
Guests had the opportunity to listen to the panel moderated by prof. Cezary Wójcik (Center for Leadership), which concerned the building of visionary organizations. Debaters among whom were: Santiago de la Cierva (IESE Business School), Anna Jakób (Grupa GPEC), Piotr Paszczyk (APN Promise S.A.), Anna Poliszkiewicz (Vistra Corporate Services) and Rafał Trusiewicz (Katharsis Development) have jointly noticed that in order to create visionary organizations one must give up power and unleash scattered leadership. President Piotr Paszczyk said "The role of every visionary is to show people  directions of development and to convince them that the assumed goales are achievable". Experts pointed out: visionary, happines, team and strategy as factors conditioning success. Whereas, building trust was mentioned as basis for discovering new business opportunities.
Panel 3: Impact of Robotics and Automation
The introduction to the last discussion panel was the speech of dr Paweł Urbański – Director of Warsaw University of Technology Business School, who took up the topic of relationship between the development of technology and economic growth. One of the conclusions from the presentation is a slightly pessimistic vision of the future – up to 50% of occupations in developed economies will be exposed to automation.
Panelists of the last discussion moderated by prof. Cezary Zieliński (Warsaw University of Technology), including Krystyna Boczkowska (Robert Bosch), Piotr Czarnecki (Raiffeisen Bank Polska), Michał Kreczmar (PwC), Artur Pollak (APA Group) and previously speaking dr Paweł Urbański discussed the technological revolution and investing in new technologies and digitalization. According to Krystyna Boczkowska, robotics and automation doesn't mean giving up employees, because the development of technology introduces new professions that are responsible for cybersecurity, Big Date or Internet of Things.  On the other hand Piotr Czarnecki pointed out that in the competitive market and in the current economy, which is heading towards the digital economy, two processes take place – struggle for costs and change of the paradigm of acting on the line with the client. Speakers unanimously stressed out the great importance of educating and adapting the workforce to the requirements of  labor market.
In conclusion, we can say with satisfaction that two-day congress was a complete success. Many hours of inspiring speeches, stormy debates and jointly worked out conclusions are behind us.
As a professional networking organization, we make every effort to ensure that the substantive level of our meetings meets even with the highest expectations. Our guests have proved that sharing knowledge and experience is an invaluable asset in developing business . We believe that in both practical and theoretical manner we have brought our listeners closer to key business issues from a technological, innovative and investment perspective. We are convinced that  speeches and interesting  discussions of the panelists inspired our guests to act and outlined new development paths.
See you in a year!
Honorary Patron: Ministry of Science and Higher Education
Main Partners: Canon Polska, Pfizer Polska
Gold Partners: Future Pipe Industries, MicroStrategy Poland, Skanska
Partners: Algotech Polska, APA Group, Arche, British Automotive Centrum, Robert Bosch, Enea, Grupa GPEC, ING Bank Śląski, Katharsis Development, Lyreco Polska, MasterCard, APN Promise, PwC, Raiffeisen Polbank, SPAR, Vistra Corporate Services, Walter Herz
Gala Partners: Globe Trade Centre, Panek CarSharing